In case you missed the first part of this post, Couch Surfing With Hope, Introducing Tita Silver, GK is an organization in the Philippines that is building houses with hope. They help the poorest of the poor in the Philippines by giving people not only a living structure, but a new, hopeful perspective on life. I have been to only a fraction of Gawad Kalinga (GK) villages, but the Iriga Character Village in the Bicol region of the Philippines was an astonishing example of how hope is being infused into even the hardest to reach communities.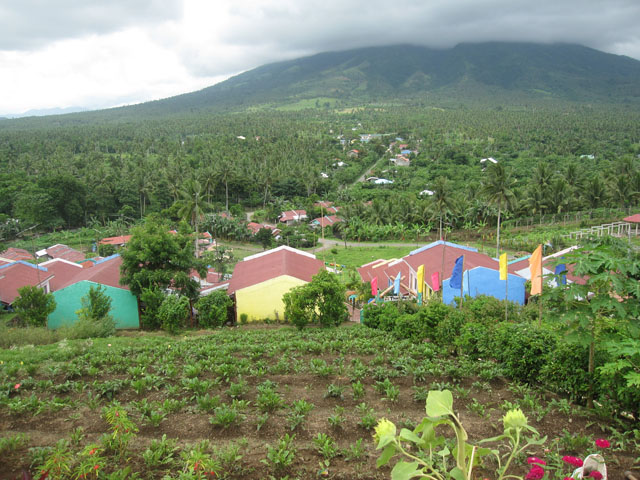 I caught a 1.5 hour bus from Naga City to the sleepy and ultra humid bus terminal in Iriga City. A local volunteer with GK accidentally, but essentially bumped into me at the terminal and was heading in the same direction towards the village and let me tag along.
The GK Character village is located roughly 20 minutes (7 km) from the Iriga City proper (rather difficult to find if you are a newbie). It is accessible by riding the Filipino version of a tuk-tuk, known as the tricycle. This monstrosity is a motorcycle with a makeshift pedicab welded together with something like a bike tire making up the third wheel. In Bicol they fit 10-12 riders, a miracle in mechanics which I have yet to understand.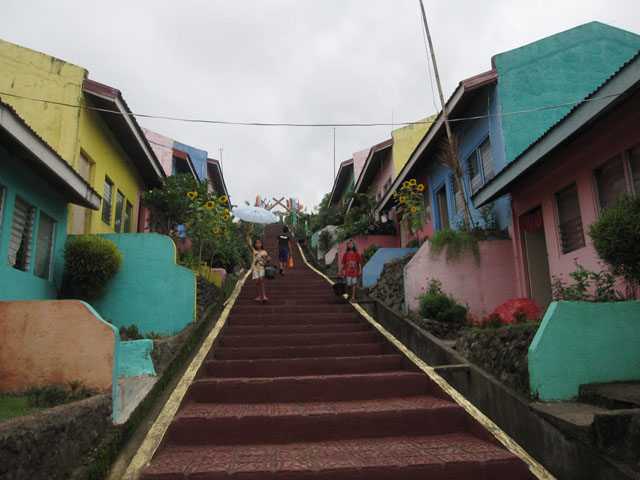 I was greeted by smiling people and happy children, willing to show me around their village even if they did not feel comfortable speaking English or talking at all. One of the boys from the village took the liberty to find an umbrella and personally carried it above my head, shielding me from the rainy season as we walked up the hill. At the top, we inhaled the view of the village, the flowers, and the dominating Mt. Iriga in the background.
As with couch surfing in Manila's Payatas, GK Jack and Jill, and GK Libmanan (all GK village sites), the folks at GK Character village were hospitable, giving, and genuinely cared for my concerns.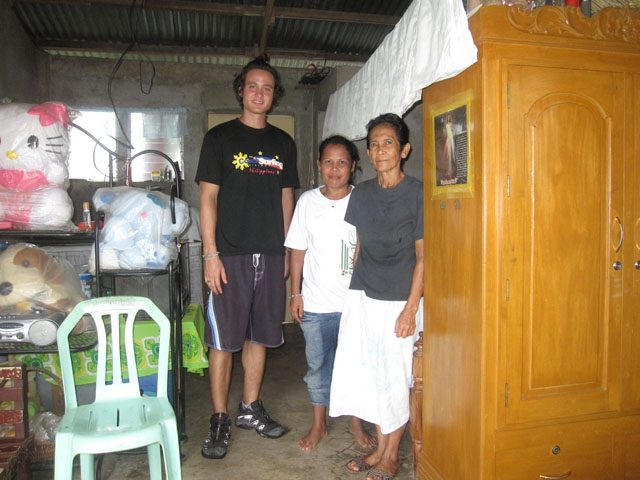 A homeowner, Tita Norma (who was always cheerful, far right), graciously provided me with meals and cooked a glorious array of fresh Bicolano garden produced vegetables in fresh coconut milk and rice. For breakfast I was treated to a dazzling mix of various wonderful tasting Filipino breakfast dishes such as fried noodles with vinegar, fried rice, egg, and Filipino pancake.
Just like in Bangkok where little things make a difference, and in Bali with Dwight at the house of life, I was inspired again by the graciousness of people who have very little, but are happy and willing to share.
In the words of one of my favorite philosophers Alain de Botton,
"If is is true that love is a pursuit in others of qualities we lack in ourselves, then in our love of someone from another country, one ambition may be to weld ourselves more closely to values missing from our own culture."
Being immersed with locals in the Philippines or anywhere gives us valuable exposure to different ways of life. I was inspired by moments spent visiting, joking around (Filipinos love to joke and laugh), listening to stories, and showing appreciation for what others do to uplift others.
Lets be thankful for what we have, grateful for what we can do, and content to weld ourselves to people with giving spirits. As with the makeshift pedicap, this model will carry us further on the road to happiness than we might expect. There is no better place to learn this than in a GK village.
~Migration Mark